Hey there! Whatcha doin'? It's been awhile since I posted, and that is a shame. A lot (yet at the same time, very little) has happened since my last update, but I'll post about the two most important things.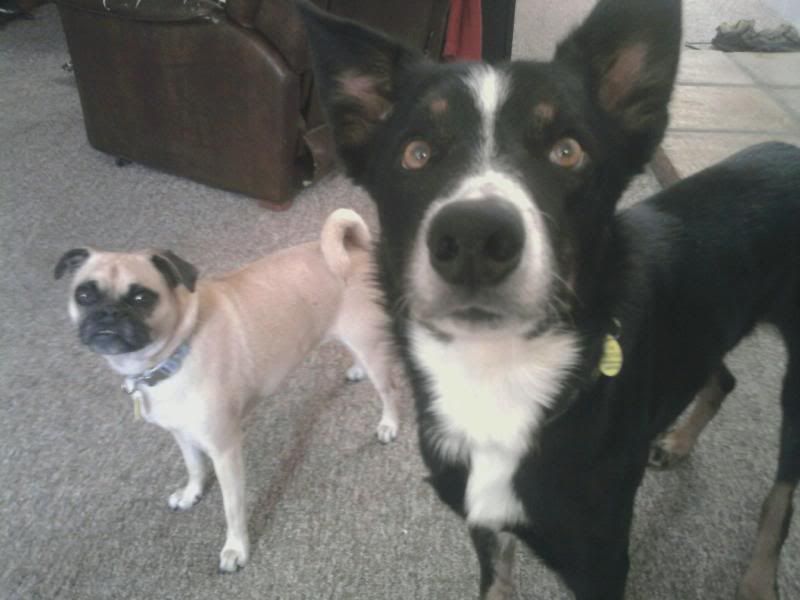 Meet the newest additions to the Zipi household. Libby is small one (3/4 pug, 1/4 beagle), and Ubee is the big one (border collie, German shepherd mix, we think). Clearly, working at a humane society is a bad idea for me :P
It's been interesting getting to know new dogs. I'd forgotten what it's like to actually have to train them, so that took some adjustment (though we're still struggling with Libby's housebreaking. Her previous owner paper trained her and trained her to not go potty on grass [why would they DO that!?], so not only do we have to train her we have to break the previous training). But they're good dogs and I'm enjoying having them here :) Even with Ubee's excessive shedding (OMG. I cannot keep up with the hair XD).
And the other important thing:
Matt and I got engaged! :D
(
And he got the whole thing on camera!
Collapse
)
So that's most of what's been going on with me! Work is going fine, though I can definitely see why people have a time working at a non-profit despite wanting to help out. There is A LOT of bureaucratic BS from the "higher ups" I have to deal with and guilt trips about how the clinic is bankrupting the organization (even though the accountant tells us otherwise) but whatevs. I gots two new puppies and a shiny thing on my finger (oh. And I suppose a great guy ;P) so :D